Email List of Builders and Construction Companies with Postal Mailing Addresses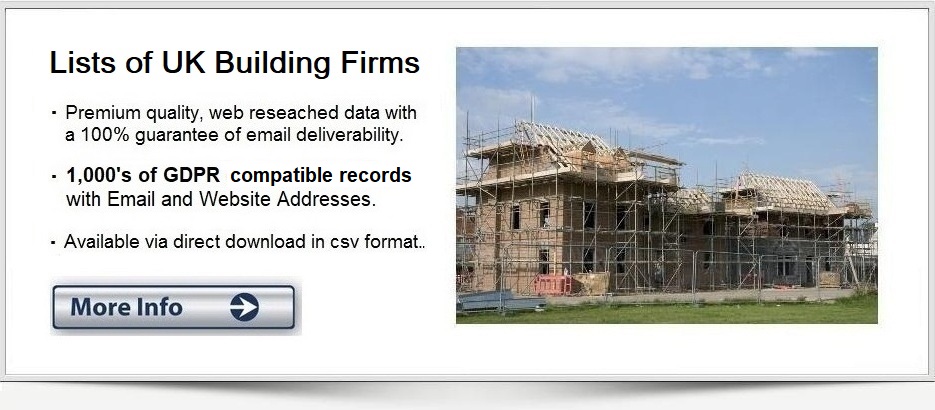 For a List of Builders and Construction Companies in the USA see above navigation bar – top right

cc

Email List of Builders and Building Contractors
Are you a third-party service provider who can sell/lease materials, manpower or machinery to construction companies? If yes, you may be interested to know that our email list of building contractors has been designed expressly for you.
At APC Services Ltd, we are a reputed email marketing and direct mail service provider, and we have spent years compiling our massive builders database that houses thousands of email addresses of construction firms.
These contact details have been collated to help you find and contact prospective clients in North America, so you can quickly and successfully run your promotional campaigns.
The most comprehensive email list of builders and contractors you were waiting for
The biggest problem for companies serving construction managers, is finding the correct people to market their business to. There are so many types of construction firms and independent contractors in the market, each of whom specializes in different niches of construction.
Our experts at APC Services Ltd have scoured the web with a fine-toothed comb to find you the highest number of email addresses of building firms and independent building contractors in the United States. Our records are up-to-date with the latest contact information and you'll find all the information you need in a single .CSV format file.
Here's what you'll get in your building contractors mailing list:
Exhaustive list of independent contractors and construction firms from each state in the United States.
Detailed builders database with the most recent contact information updated on their website or social media profiles.
Full email addresses for each record (with multiple email addresses of builders and construction firms with more than one office).
Verified postal address and telephone number of each builder or construction firm listed.
With such a detailed list of prospective customers in your hands, you can quickly get down to crafting personalized email communication, with custom offers which your recipients can't refuse.
To see a short sample of our list of builders email addresses, visit our website. You can also purchase your builders database on our site.
What to expect from our building contractors mailing list?
Our objective is to bring to you your primary, go-to source of information for builders and construction firm contact details. We have used a variety of online and offline sources, visited company websites, looked up social profiles, collected data from community forums, and searched through tens of thousands of business listings to create a massive building contractors mailing list that you can use for your promotional campaigns.
So, what will you find in our builders database?
A whopping  20,000+ records containing builders email addresses of construction firms and independent contractors from across North America.
A huge listing of  construction companies, specializing in various domains.
Over 10,000 verified website domains which you can contact for marketing activities.
PAF Certified postal addresses and latest telephone numbers.
Complete contact records of industry-wide builders and contractors at a budget-friendly price of GBP 145.00.
To get your hands on our listing of email addresses of construction firms and building contractors, visit our APC Services Ltd website and complete your purchase.
An encyclopedia builders database to help you supercharge your marketing activities
We take great care to ensure you get the most relevant and valid information. Our team undertakes stringent pre-vetting activities to ensure you receive only those telephone numbers and email addresses of construction firms and independent builders, which are currently in use. We regularly contact these numbers and email IDs every few months to ensure they work. This way you won't experience any hard bounces or get invalid messages when you contact them.
Our entire comprehensive email list of building contractors is available to you in the form of a .CSV file. It can be converted into PDF, Excel, VCF, Text formats, making them easier to export onto diverse tools and platforms. Our .CSV file is available to you on lifetime access and you can download it as many times as needed, when collaborating with the rest of your team.
A few other reasons why our email list of building contractors stands out are:
You can easily filter through to find City-specific contractors, builders and construction firms.
You can find multiple persons of contact for a single company, increasing your chances of success during outreach.
We assure 100% deliverability on industry-wide telephone numbers and email addresses, saving you a lot of time which can be better spent on marketing.
How to order for our list of email addresses of construction firms?
If you're interested in accessing our robust builders database, here is how you can purchase it:
Visit our website
At the bottom of the page, you'll find the "Add to Cart" button. Click it and you'll be directed to the shopping page.
Fill in your name and your business name.
Check the Terms & Conditions box.
Click on the "Checkout with PayPal" button. (You'll be directed to your PayPal account for payment. If you don't have a PayPal account, you can either create one or pay directly through your Credit Card.)
Receive the payment confirmation email with a link to our downloadable .CSV format builders database.
Download and share your building contractors mailing list as necessary.
Why choose our builders database?
Our experts at APC Services Ltd are highly skilled in the art of research. We meticulously go through thousands of records to find pertinent contact information to build your email list of builders. Through this, we hope to eliminate the need for you to waste your precious time, energy and money in sourcing leads. And we also offer a related Email List of Architects https://architectslist.co.uk/
Our fully-validated builders mailing list is one of the most voluminous and comprehensive listings of its kind. We offer one of the friendliest prices in the entire industry, making our builders database easy to purchase for companies on shoestring budgets as well.


For more details and pricing information please click here

Here is a list of tips to help you find the right contract to work on your project. By following them, you can be sure that the project will be a success and worry-free. You will need an email sending service.

See sample records from the Email Directory of Builders and Construction Companies:-