Email Mailing List of Builders and Construction Companies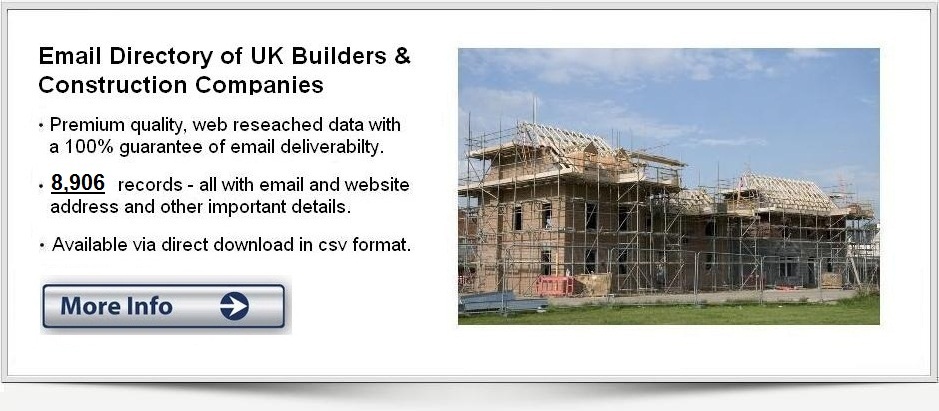 For a List of Builders and Construction Companies in the USA see above navigation bar – top right




See sample records from the Directory of Builders and Construction Companies:-
For more details and pricing information please click here
 Welcome to UK Builders and Construction Companies email mailing list.  It's your information source to more than 5000 active online contacts in UK.   Do you want to find ways of targeting more customers, expanding your client base, and earning higher profits? Are you a network partner or a supplier of Builders and Construction Companies? If you are, then this place is the right one for you! We're proud to tell you that we are the number 1 email list provider of Builders and Construction Companies located in USA and in UK (click here for the details). How does it work for you? What makes our lists the number one in this industry?  Our lists are thoroughly researched and consistent updated.  The Builders and Construction companies list has 1,000's of contact email addresses at Builders and Construction Companies operating all across the United Kingdom. Available as a .csv file, the email list will be sent to you after minutes of online payment verification.  Files are accessible through a downloadable link.  What does the email list information include? It includes website addresses of more than 3000 Builders and Construction Companies containing over 5000 Updated email addresses.  Information also includes regional details in United Kingdom, from which contacts come from.  Click this page "Counts per Region." Please be reminded that we also provide snail mail addresses although our main efforts are highlighted by providing accurate data on email address.  To get you an idea on how we obtain data, go to "Research Methods." So simple, you can't find any Builders and Construction Companies with email list coming from other source.  We are the one providing lists of correct email contacts which are regularly updated at a price so affordable.  (plus we now have a new Australia List of Builders )
Through the services of builders and construction companies, you can easily handle your construction projects. However, you must only choose the right company. Keep in mind that building and construction projects could turn for the worse if you opt for a company with poor communication. You should also consider the fact that the lowest bid is not always the best option.
Here is a list of tips to help you find the right contract to work on your project. By following them, you can be sure that the project will be a success and worry-free
Look for a reputable company. You can ask your friends to recommend you the contractor in this area. If you have found a few, you must screen each candidate. You should consider getting the services of a company that has the experience of the kind of work that you need.
Check the company's credentials. You must request at least three references from the company's previous clients. Ask those previous clients if they are happy working with that company. You should investigate whether or not such company has been involved in a lawsuit. Interview the contractor
You can start communicating with the staff of the company. You should inquire about the project that you would like to be completed. Ask if the company has a superintendent to supervise the project on site.
Avoid going for the lowest price. Ask the builders and construction companies for an estimate. Make sure that you are not choosing certain company because of the reduced price. Remember that lower rates may mean they are going to use substandard materials. And you do not want that. Through these tips, your construction project could be a successful and stress-free one.
We also market other data including a database of restaurants and  German business mailing-listen